ALPHARETTA, Ga. (BP) — About five years ago, Lynnette Ezell and a friend walked into a North Georgia Department of Family Services office wearing diapers.
"I made an appointment and said, 'How can we help? '" Ezell told Baptist Press in a phone interview, recalling the moment she sat across from a social worker.
"I decided before I went that whatever she said, we were going to do it," Ezell said. "She leaned forward, and she said, 'Do you know that God and Jesus and everything you all talk about in your church? The only time our children hear the name of God is when someone insults them.
This candid statement from an overworked social worker went hand-in-hand with the lessons Ezell had learned during her journey as an adoptive mother – often, physical needs must come before spiritual needs.
"We couldn't just throw out church words," Ezell said. People need care and dignity first.
When Ezell and her husband, Kevin, then a pastor, now president of the North American Mission Board (NAMB), first adopted, they could have been better prepared.
"I had to learn along the way," she says. "I think our adoption agency at the time gave me a book that was super old. I read it but it didn't really affect me. I wasn't prepared at all."
She now spouts the latest statistics and research on child development like an expert.
"I started educating myself, I started digging," she said. "And pray with your nose in the mat. I prayed beside my children's bed at night. "Lord, we are struggling here." The Lord was so kind to teach us early on that no matter the behavior, look beyond. Behavior is just one symptom of what is going on in a child's life. Don't allow any behavior to sabotage a relationship.
The Ezells had three biological children, then adopted three children overseas – children Lynette calls "special gifts" that "God has grafted into our lives." The children were of different ages when they were adopted, but even babies can have internalized trauma.
"Trauma can occur in utero," Ezell said. "The brain does not develop properly if there is abuse or substance abuse. … This little child in the womb is waiting to put a face to that voice he's been hearing all this time. It's a break in a relationship. This is how God wired us: to attach to our biological parent, and when that doesn't happen, it's traumatic.
Developmentally, children who have experienced trauma may be years behind their chronological age. And pushing them to learn and behave the way they "should" for their age is "setting them up to fail," Ezell said. Churches should keep this in mind when placing children who have experienced trauma in Sunday School classes or in other age-specific activities. Many children lacked an early attachment to a secure caregiver to help the brain heal.
"The brain heals," she says. "The brain can rewire. It does this through healthy relationships.
And no matter where you start, the goal is achievable, she says. It may take longer to get there. For adoptive families, the key is consistency and longevity.
"You have to realize that adoption is a mission, but it's also very practical. It takes the attention of the whole family," Ezell said, adding that those considering adoption should keep the right perspective.
"I want the Church to realize: we are not going to have children for our family. We give our family for a child. We say, 'It doesn't matter what it looks like. No matter what you're going through… It may take you 20 years, but we're here. And we're not going anywhere. … [God has] moved the world to make us a family.
The Ezells' journey with adoption opened up a new world for Lynette. She now speaks regularly on the subject and even hosts a podcast about it – "The Adopting and Fostering Home". She also regularly trains foster families via Zoom. And she helps NAMB with its Family Advocacy Ministry – a "step-by-step ministry strategy that helps churches serve and advocate for vulnerable children and families as well as those called to foster and adopt."
But his ministry goes far beyond a microphone or a computer screen. Since her first visit to her local children's services office five years ago, she has become a regular there. And she usually has a box of diapers with her. She is by first name with the social workers, and they often call her when there is a specific need.
Helping families stay together and out of the "system" is her main focus these days.
She recently helped buy a bed for a foster family so they could take three children instead of two – so the siblings could stay together.
She told of a man who bought new tires for a single mother with seven children so she could continue working to support them, keeping them together and out of the system.
"I'm waiting for a call from a mother right now, trying to keep them out of the shelter and her daughter out of foster care and helping the family stay together," she said. "And that's what I would really like to see the Church do more of here in the United States because the need is becoming urgent."
So what can churches do? How can they get involved?
"You go to your local [child services] office," Ezell said. "They don't have time to talk to you. Its good. You will respond with kindness at every turn. Bring them a box of donuts and your phone number on top of the box and say, "I'm happy to help."
"…It took me about five years to build strong relationships. They now trust me and know that I will stay within their guidelines.
In the Ezell area, churches meet the many physical needs of children and foster families. Recently, the 60-odd church planters the Ezells attend helped buy $50 Chick-fil-A gift cards for 200 foster families who had had no outside help or support in two years.
Local churches also provide materials for a ministry called Restoring Dignity, which fills duffel bags with a week's worth of new clothes, underwear, socks and toiletries as well as an age-appropriate Bible. The bags are gender and age specific and are ready to be given to a child entering the foster system. Often children are placed in foster care with only the clothes they are wearing.
"They can live without that bag for a week," she said. "All new, no 'trash for Jesus'."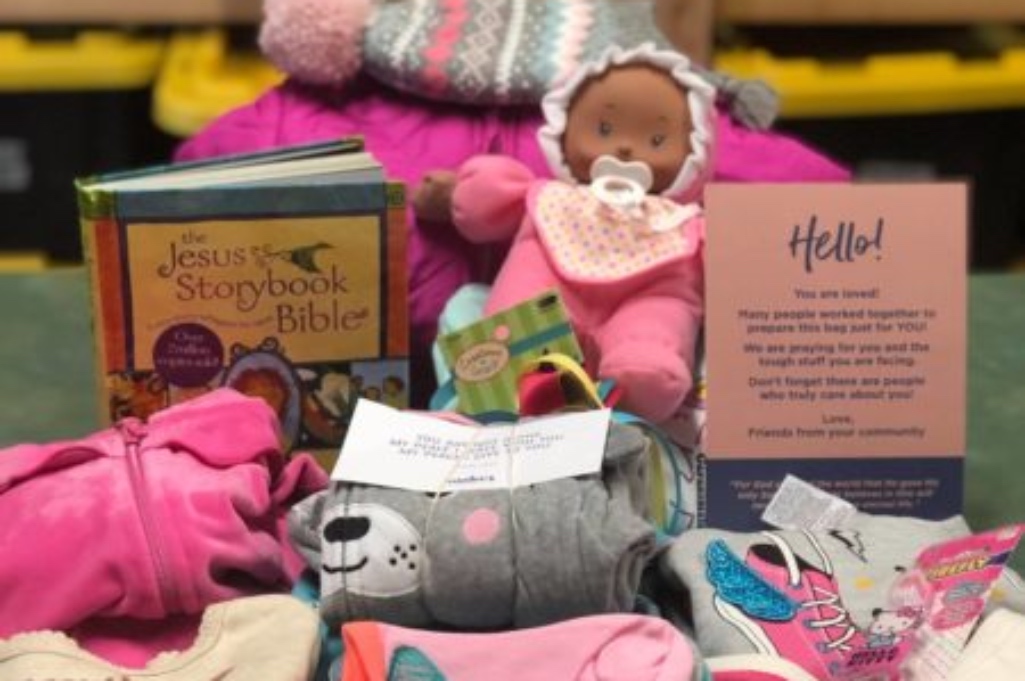 Meeting those practical needs is something any church can do, Ezell said. And the same goes for educating people to care for children who have experienced trauma.
"You have a couple that does volunteer work, and they babysit 4-year-olds on a Sunday," she said, as an example. "They don't know much about foster care and adoption. They do the traditional forms of parenthood.
"They have 16 four-year-olds that morning. They have one in the corner who talks low. Cradling in a corner in a fetal position, crying. Maybe the child can just say one thing over and over again. There is a trauma in the life of this child.
Forcing the child to join the group and behave like other children will backfire, she said.
"We must learn to love and realize that we are the adult in the room that God has placed with this child for this hour to be the hands and face of Jesus and bring his love and compassion to this child."
Anyone who works with children would benefit from trauma-informed training, Ezell said.
Reading articles or even watching TED talks about TBRI (trust-based relationship intervention) or ACE (negative childhood experiences) scores are helpful ways to learn how to deal with a struggling child.
Ezell uses a story from John 21 – one of Jesus' last visits with his disciples – as an example.
"Peter denied Christ," she said, telling the story. "They went through horrific trauma. They think it's over. They are deeply broken. What are they doing – they are going fishing.
After fishing all night, they caught nothing. When John recognizes Jesus on the shore, Peter jumps out of the boat and runs towards him.
"When [Peter] get up there, he's denied Christ three times. He feels like the relationship is over and it's broken," she said. "But when he comes ashore, everything [Jesus is] do is cooking fish. He takes a meal with them. He connects with them before giving them instructions again. He does this through a hot meal. He connects with them before correcting them. [He's] meet their physical needs.
Ezell has used this example in her own journey as an adoptive mother and now as an advocate for troubled children throughout her community.
"We are not equal for the most part," she said. "But the Lord equips us to keep showing up, to keep loving. To keep in touch with a child's heart so children can move forward in their healing. It takes years to show up.
(EDITOR'S NOTE – Laura Erlanson is senior editor of Baptist Press. November is National Adoption Awareness Month.)